The Future of Living Materials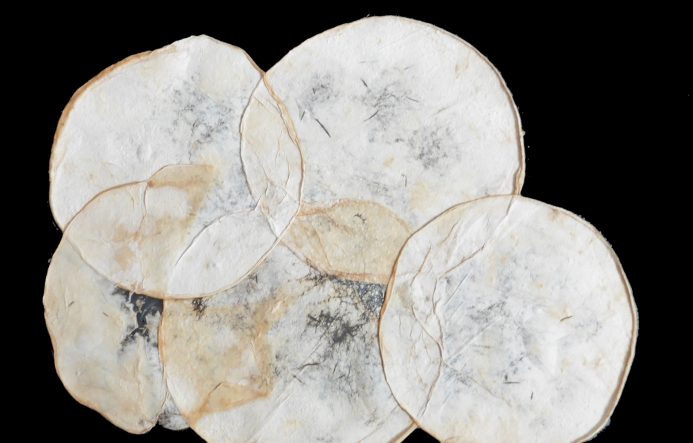 Partners
State of Fashion / Wageningen University and Research
Photo by Aniela Hoitink
This project investigates and develops new 'living' materials (eg bio-based materials, textiles from micro-organisms, etc.) for the transition to a sustainable fashion system and a circular society. With the project 'The Future of Living Materials' we connect fashion- and product designers engaged in artistic research and design research, to scientists and master students at Wageningen University & Research (WUR).
In different lab projects they jointly develop new, sustainable materials – specifically in the field of fashion and design – to at the same time come to a new imagination and aesthetics  which is essential for the transition to a circular economy and society. We also develop new concepts and business models to 'market' these materials.
In the context of all social, environmental, economic and political problems of the current
fashion industry, there is a great urgency to deal in a more ethical way with (raw) materials, and to question their value and meaning. The interaction between the creative, conceptual and aesthetic approach of designers and the fundamental scientific knowledge on sustainable materials of WUR is essential to develop innovative materials, insights and solutions.
The project 'The Future of Living Materials' consists of 5 subprojects:
1. Living Systems: In nature we can find resources, (living) materials and diverse functional principles that may help the transition to a sustainable fashion industry. Mimicking biological shapes, processes and systems can be a way to contribute to a sustainable, circular future.
watch the video on Vimeo
Living Colors: in order to achieve a form of 'aesthetic sustainability', this sub-project focuses
on the circular life of color, and specifically: the possibilities of a new color palette
development by biodesign (eg color of micro-organisms) and upcycling
dyes and residual ink.
Watch the video on Vimeo
3. Living Leather: research into new materials (eg fruit waste) that can take over the function of leather
as a future alternative to the highly problematic leather industry and the many
leather accessories in the fashion industry.
Watch the video on Vimeo
4. Living Skin: focuses on the 'behavior' of new materials such as mycelium, kombucha and algae
when worn on the skin of the human body, and on the personalization of
these materials.
Watch the video on Vimeo
5. Living Waste: People produce large quantities of waste from which new raw materials can be made. For example, cellulose can be extracted from agricultural and industrial waste for the production of naturally degradable yarns or filaments for 3D printing. Bone waste from the meat industry has been used for centuries for a high quality of ceramic production.
Watch the video on Vimeo
The folowing designers contribute to this project:
This project is funded by Bankgiroloterij Fonds.
Project updates:
Expo: Fashioning the Future; innovating textile value chains
The Future of Living Materials in media
The Future of Living Materials @ Avantex Paris
Recap: The Future of Living Materials @ Avantex Paris