Expo 'Fashioning the Future; Innovating textile value chains'
12/09/18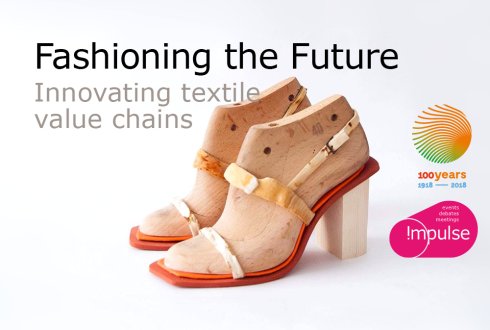 This exposition shows the ArtEZ Future Makers project 'The Future of Living Materials' and 'Composing the New Carpet'. Where ArtEZ Future Makers collaborated with Wageningen University and Research. The exposition can be visited until October 12th at WUR Impulse.
The Future of Living Materials
The Future of Living Materials project investigates the development and application of living materials (living skin, living colors), natural waste (living leather, living waste) and natural principles (living systems) for a sustainable fashion system.
We are proud that this project, after being presented at State of Fashion (SToF), is now being presented in Wageningen. This project has opened two worlds: scientists at WUR can apply their knowledge to, for example, plant biotechnology, microbiology and sustainability in the field of fashion and product design. And fashion and product designers can further develop their work on the basis of scientific knowledge and laboratory experiments in collaboration with scientists and MSc students from WUR, to contribute to a more circular fashion system, a regenerative society and a resilient future.
Designers: Luc Aarts, Lilian van Daal, Aniela Hoitink, Iris Houthoff, Nienke Hoogvliet, Aliki van der Kruijs, Emma van der Leest, Laura Luchtman, Ilfa Siebenhaar, Karin Vlug.
Composing the New Carpet
The Composing the New Carpet project was initiated in response to the Roadmap Textiles 2030, in which the trade association for fashion, textiles and interior design Modint concludes that the carpet industry must produce more sustainably, circularly and flexibly. Future Makers asked designers and design students from ArtEZ to develop new scenarios for this.
Designers: Eric Klarenbeek, Tjeerd Veenhoven, Richard Vijgen
The project The Future of Living Materials will be on show after this exhibition in Wageningen during the Dutch Design Week in Eindhoven October 20-28.
More info: www.wur.nl/impulse