E-Magazine Going Circular Going Cellulose
08/09/21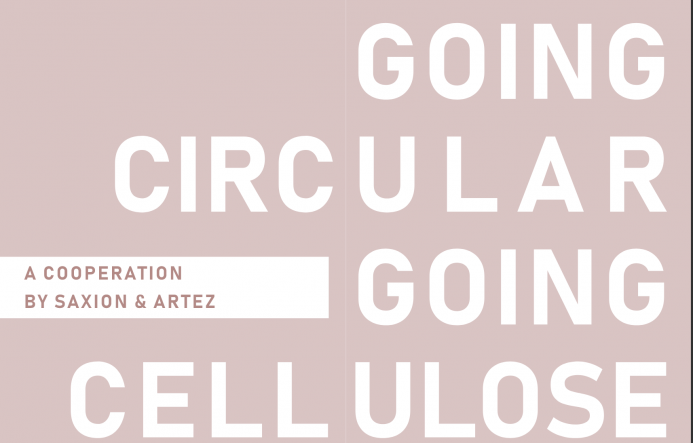 ArtEZ Center of Expertise Future Makers is proud to present the results of the 'Going Circular, Going Cellulose' project, a project led by Saxion Hogeschool that started in 2018. The project is a design-driven, hands-on research that connects fashion and product designers with industry partners to develop fabrics made from sustainable cellulose fibres. The project aims to develop new insights into multi-stakeholder co-creation and circular design principles.
The project not only explored new circular design principles (such as: 'co-design for understanding') but also emphasized the importance of creating relationships based on transparency, empathy and trust, within multi-stakeholder environments. In addition, Going Circular, Going Cellulose has shown how design can play a crucial role in creating mutual understanding and a shared language to enable an integrated approach of co-creation and co-design for a more circular fashion and textile system.
The project is alive showing that it is essential that designers not only design a product, but are involved in the material development from the start. In this way they can start the design process from the potential of the material and the fibers. This means that the role of the designer is changing: it is not just about creating a beautiful and aesthetic end product, but also about being able to respond flexibly to new issues and challenges – and to develop and discover new possibilities in that complexity. Technical challenges can become new design possibilities. It also means that designers contribute to a layered form of value creation (aesthetic value, emotional value, socio-cultural value, technical value and/or economic value).
The research results show that 'circular intimacy' is also of great importance. Sharing values and feeling 'aligned'. This so-called 'relational proximity' is essential to bring people together (figuratively) for co-design processes for circularity. The fact that design objects can play a crucial role in creating a common language and understanding in interdisciplinary collaborations is very helpful.
The results of the project are presented in the e-book 'Going Circular, Going Cellulose'. This e-book was made possible in part by SIA funding for the Going Circular, Going Cellulose (GC)2 Top Up project.