Regiondeal circularity ArtEZ CoE Future Makers
04/07/18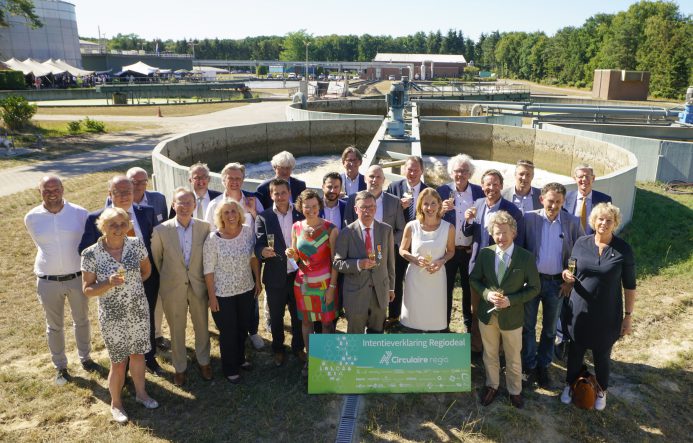 On July 2nd the Regiondeal Circular was presented to the State Secretary of the Ministry of Infrastructure and Water Management. One of the projects within this regiondeal is the development of the Dutch Circular Textile Valley in which ArtEZ Center of Expertise Future Makers plays a role.
More than 25 organizations work together to create the largest circular region in the Netherlands. At the initiative of the Cleantech Region, VNO-NCW Midden and KIEMT, the provinces, the regional associations of VNO-NCW, nature and environmental federations and various branches and research institutes join this regiondeal. This deal with the central government means that the regions concerned make their textile-, agricultural-, paper-, plastic-, construction- and manufacturing companies more competitive and sustainable by buying in a circular manner and closing production loops.
With the Regiondeal, which was handed over to the State Secretary, the parties involved want to speed up hundreds of projects in the various provinces, such as the National Test Center for Plastics and Field Labs. The supply on the part of the regions is the investment in security of raw materials, the reduction of household waste to less than 80 kilos per inhabitant per year and a reduction of CO2 emissions through the closing of cycles. Financing is done by companies, banks, provinces and the Regiondeal has also asked for a piece of financing from the central government. All parties are also pleased that three major banks have now also launched their 'Circular Economy Finance Guidelines', for possible support of several of the circular projects.
In this region, the organizations work together with individual companies on making their business model more sustainable. From consumption to use and with minimal passing on to future generations. The 25 partners together want to be the first region in Europe to ensure that as many organizations as possible link financial and non-financial performance to the global standard drawn up by the International Integrated Reporting Council. Yousef Yousef, figurehead of the Green Growth network of VNO-NCW: "We invest with people and resources in a transition of our economy, so that prosperity and well-being in our regions are preserved for the future. We count on support from the government in our plans. "