Fashion Colloquium: Searching for the New Luxury
31/05/18 - 01/06/18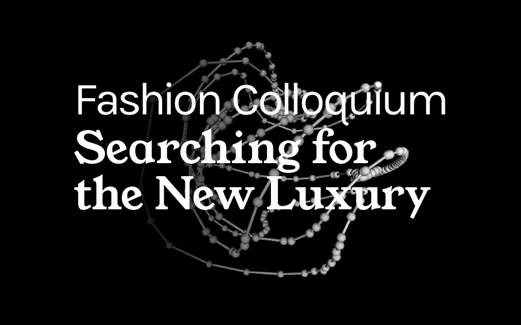 The 'Fashion Colloquium: Searching for the New Luxury' will explore new definitions of 'luxury' against the backdrop of urgent environmental and social issues. Fashion is in dire need of more value-based critical thinking as well as design-driven research to thoroughly explore, disrupt, redefine and transform the system. During this two-day conference we will collectively investigate how to move towards a fashion reality that addresses ethics, inclusivity and responsible consumerism in a more engaged way. Design, imagination and aesthetics are essential to express these values and to envision a more ethical engagement with the material objects that surround our bodies. The 'Fashion Colloquium: Searching for the New Luxury' will explore how we can transition to a more resilient future of fashion together. 
Fashion Colloquium 2018
More than 30 international academics and creative practitioners will present their research on themes such as new materials, design for closed loops, aesthetic sustainability and emotional connectivity, redefining value systems, new business models and forms of organization, and the importance of agency in moving towards a more resilient future. We will collectively engage in
in-depth discussions on how to develop innovative approaches that help to create systemic change. The Fashion Colloquium will host:
–          lectures and panel discussions by keynote speakers;
–          paper presentations by academics and practice-based researchers and designers;
–          creative contributions such as performances, participatory panel discussions and other creative interventions.
The first confirmed keynote speakers are:
–          Kristine Harper, researcher and lecturer at KEA Copenhagen School of Design and Technology | author of 'Aesthetic Sustainability – Product Design and Sustainable Usage' (2017)
–          Oskar Metsavaht, founder and style director of Brazilian fashion brand Osklen | founder of Instituto-E, a non-profit organization based in Brazil that encourages sustainable human development, with projects including the development of socially and environmentally friendly fabrics
–          Timotheus Vermeulen,  Associate Professor in Media, Culture and Society at University of Oslo | founder of the arts and culture platform Notes on Metamodernism
–          Otto von Busch,  Associate Professor of Integrated Design, School of Design Strategies, Parsons, The New School | fashion artist, hacktivist, theorist and designer
–          Pascale Gatzen, Head of the MA Fashion Design at ArtEZ University of the Arts | artist, educator and fashion designer | founder of the workers cooperative 'friends of light'
–          Orsola de Castro, founder and creative director of global movement Fashion Revolution | founder and designer upcycling fashion label From Somewhere | initiator Esthetica at London Fashion Week | creator Reclaim To Wear | associate lecturer at University of the Arts London
–          David Bollier, is an American activist, author, and blogger whose work focuses on the commons as a new paradigm of economics, politics, and culture. He is currently Director of the Reinventing the Commons Program at the Schumacher Center for a New Economics (Massachusetts, US).
Opening State of Fashion 2018 I searching for the new luxury
In the late afternoon of May 31, participants of the Fashion Colloquium are invited to attend the opening of State of Fashion 2018 | searching for the new luxury. State of Fashion is a new four-yearly fashion event in Arnhem, the Netherlands. It is the first large-scale international public event that is entirely devoted to a resilient future for fashion. Its first edition will run from
1 June until 22 July 2018, and is curated by José Teunissen (Dean School of Design & Technology at the London College of Fashion and appraised curator, researcher and author).  More information: https://stateoffashion.org/en/
—
Scientific committee:
José Teunissen, Professor, London College of Fashion, curator State of Fashion 2018
Danielle Bruggeman, Professor of Fashion, ArtEZ University of the Arts
Kim Poldner, Professor of Entrepreneurship, Wageningen University & Research
Anneke Smelik, Professor of Visual Culture, Radboud University Nijmegen
Ian King, Professor, London College of Fashion and University of the Arts, London
Supported by C&A Foundation:
The 'Fashion Colloquium: Searching for the New Luxury' is supported by the C&A Foundation. C&A Foundation is a corporate foundation here to transform the fashion industry. We give our partners financial support, expertise and networks so they can make the fashion industry work better for every person it touches. We do this because we believe that despite the vast and complex challenges we face, we can work together to make fashion a force for good.
Fashion Colloquia:
The FASHION COLLOQUIA is made up of a core network of 4 institutions (IFM-Paris, Parsons-New York, LCF-London, Domus-Milan) connected by their residence and involvement in the four big 'fashion weeks' across the globe and housed at the London College of Fashion, University of the Arts London. At each colloquium there will be a mixture of specific themes, of particular relevance to the specific location, and series themes, which will allow different sets of contributions to be added and explored.